Research in the Hekimi Lab

We are using mutants of Caenorhabditis elegans and mouse mutants to understand aging, because it is a crucial, profound, and poorly understood biological phenomenon and because understanding aging might provide new ways for medical intervention on the aging process. We are particularly focussing on activities that affect mitochondrial function, and on mutants that enhance longevity. We are also interested in the biosynthesis and function of ubiquinone (UQ, Coenzyme Q, CoQ), the redox active lipid enzymatic co-factor and membrane antioxidant. Here too we use mutants in both organisms to unravel the basic biochemical functions of ubiquinone and to develop drugs that can help alleviate the diseases linked to ubiquinone deficiency.

Recent Grant Support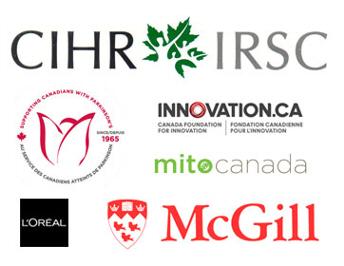 2015-2016 Parkinson's Society of Canada
A ground-breaking screen for drugs that target mitochondrial dysfunction in Parkinson's disease.

2015-2016 MitoCanada grant in aid
A novel assay to screen for enhanced mitochondrial function.

2014-2019 CIHR operating grant
Controlled ubiquinone biosynthesis.
2011-2015 Res Agreement with L'Oréal
Mechanism of action of resveratrol in the aging process in C. elegans.
2012 McGill Collaborative Research
An Automated Microfluid System (with X. Liu) for High-Throughput, Worm-Based Drug Screening.

2012-2017 CIHR operating grant
Structure, biosynthesis, and function of bile acids in C. elegans.
2011-2013 Centers of Excellence in Neurodegeneration (COEN)
C. elegans models of mitochondrial deficiency in the nervous system.

2011-2016 CIHR operating grant
Mechanisms of longevity in C. elegans mutants with defective mitochondria.

2009-2014 CIHR operating grant
Molecular and physiological mechanisms of longevity in Mclk1+/- mutants.

2010-2014 CFI (Team Leader: P.Lasko)
Mcgill/Ircm Research Group On Embryology And Disease.

2009-2013 CFI (Team Leader: M.Prentki)
Linking Basic, Clinical & Population Health Research to Prevent & Treat Diabetes, Metabolic Syndrome & Complications.

Assaf Ben-Meir A, Burstein E, Borrego-Alvarez A, Chong J, Wong E, Yavorska T, Naranian T, Chi M, Wang Y, Bentov Y, Alexis J, Meriano J, Sung H-K, Gasser DL, Moley K, Hekimi S, Casper R, Jurisicova A (2015)
Coenzyme Q10 restores oocyte mitochondrial function and fertility during reproductive aging. Aging Cell, In Press.
Claire E. Schaar, Dylan Dues, Katie Spielbauer, Emily Machiela, Jason Cooper, Megan Senchuk, Siegfried Hekimi, Jeremy M. Van Raamsdonk (2015)
Mitochondrial and Cytoplasmic ROS Have Opposing Effects on Lifespan.PLoS Genetics, Feb 11;11(2):e1004972. doi: 10.1371/journal.pgen.1004972.
Wang, Y., D. Oxer and S. Hekimi (2015)

Mitochondrial function and lifespan of mice with controlled ubiquinone biosynthesis. Nat Commun 6: 6393.
Song, P., W. Zhang, A. Sobolevski, K. Bernard, S. Hekimi and X. Liu (2015)
A microfluidic device for efficient chemical testing using Caenorhabditis elegans. Biomed Microdevices 17(2): 38.
Hughes B, Hekimi S (2015)
Lifespan-extending genetic interventions slow the rate of aging in nematode but not in mice. PLoS Genetics, Under Revision.
Lapointe J, Hughes B, Bigras E, Hekimi S (2014)
Compensatory elevation of voluntary activity in mouse mutants with impaired mitochondrial energy metabolism. Physiological Reports, 2(11) e12214.
Yee, C., W. Yang and S. Hekimi (2014)
The intrinsic apoptosis pathway mediates the pro-longevity response to mitochondrial ROS in C. elegans. Cell 157(4): 897-909.

Baruah A, Chang H, Hall M, Yuan J, Gordon S, Johnson E, Shtessel L, Yee C, Hekimi S, Derry WB, and Lee S (2014)
CEP-1, the Caenorhabditis elegans p53 homolog, mediates opposing longevity outcomes in mitochondrial electron transport chain mutants. PLoS Genetics, doi/pgen.1004097.
Wang Y, Hekimi S (2013)
Mitochondrial respiration without ubiquinone biosynthesis. Human Molecular Genetics, in press.
Wang D, Wang Y, Argyriou C, Carrière A., Malo D. Hekimi S (2012)
An enhanced immune response of Mclk1+/- mutant mice is associated with partial
Ying Wang and Siegfried Hekimi (2016)


"Understanding Ubiquinone" Trends Cell Biol. 2016 Jan 27. pii: S0962-8924(16)00003-9.

Wang, Y., D. Oxer and S. Hekimi (2015)
"Mitochondrial function and lifespan of mice with controlled ubiquinone biosynthesis." Nat Commun 6: 6393.
Ying Wang and Siegfried Hekimi (2015)

Mitochondrial dysfunction and longevity in animals: Untangling the knot Science 4 December 2015: 350 (6265), 1204-1207.
Hekimi S (2013)

Enhanced immunity in slowly-aging mutant mice with high mitochondrial oxidative stress. OncoImmunology, Apr 1;2(4):e23793.
Wang Y, Hekimi S (2012)
Molecular genetics of ubiquinone biosynthesis in animals. Critical Reviews in Biochemistry and Molecular Biology, 48:69-88.
Liu J-L, Hekimi S (2012)
The impact of mitochondrial oxidative stress on bile acid- like molecules in C. elegans provides a new perspective on human metabolic diseases. Worm, in Press.
Hekimi S, Lapointe J, Yang W (2011)
Taking a 'Good' Look at ROS in the Aging Process. Trends in Cell Biology, (10):569-76.
Van Raamsdonk, Hekimi S (2010)
Reactive Oxygen Species and Aging in Caenorhabditis elegans: Causal or Casual Relationship? Antioxidants & Redox Signalling, 13(12):1911-53.
Branicky R, Desjardins D, Liu J, Hekimi S (2010)
Lipid transport and signalling in Caenorhabditis elegans. Developmental Dynamics, May;239(5):1365-77.
Lapointe J, Hekimi S (2010)
When an aging theory ages badly. Cellular and Molecular Life Sciences, Jan;67(1):1-8.

Lapointe J, Hekimi S (2010)
When an aging theory ages badly. Cellular and Molecular Life Sciences, Jan;67(1):1-8.
Hekimi, S (2006)
How genetic analysis tests theories of animal aging. Nature Genetics, 38(9):985-91.

Stepanyan Z, Hughes B, Cliche D, Camp D, Hekimi S (2006)
Genetic and molecular characterization of CLK-1/mCLK1, a conserved determinant of the rate of aging. Experimental Gerontology, 41(10):940-51.